Brussels, 12 October 2023 – As the third Energy Performance and Buildings Directive (EPBD) trilogue starts today, activists built a three metre high house out of coloured building blocks in front of the European Council and Commission buildings to call for an ambitious and socially just EPBD before the end of the year. The action is part of the Build Better Lives Campaign, which brings together 80 social, health and environmental groups, trade unions and youth movements across Europe. They have published a joint statement detailing what is needed to build better lives. 
Photos of the stunt can be accessed here. 
The organisers, Friends of the Earth Europe and Climate Action Network Europe, demand a building's directive that delivers long-term solutions to both the energy poverty and climate crises, including:
Warm homes for all: A renovation wave that maximises the energy performance potential of our homes and buildings, combining insulation works with the installation of renewable heating and cooling systems delivers high energy savings and low energy bills.
Renovation of leakiest homes first: Prioritisation is key to ensure renovations benefit both the people and the planet. The majority of people living in the worst performing buildings are vulnerable households.
Protection of vulnerable households: A strong regulatory framework with sufficient funding ringfenced for vulnerable households, together with social safeguards and technical assistance, to make everyone can benefit from them, no matter income.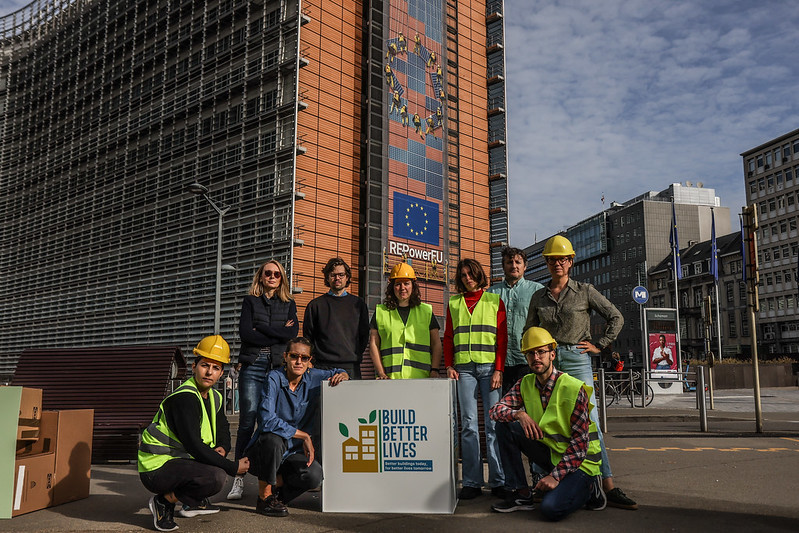 Laia Segura, energy justice campaigner at Friends of the Earth Europe said:
"Most vulnerable people in Europe live in inefficient homes that leak warmth in winter and overheat in summer. This comes at the expense of people's wealth and health. Europe's decision makers cannot fail to take this opportunity to deliver a socially just buildings directive that renovates unsafe and inefficient homes first, and provides a long-term solution to one of the root causes of energy poverty: inefficient housing. This directive is more than just creating better buildings, it is about building better lives."
Mónica Vidal, Heating Campaigner, at Climate Action Network said:
"An ambitious and just EU buildings directive will have social, economic, health and environmental benefits for generations to come. Deep renovations, phasing out fossil fuels and installing renewable heating & cooling technologies will leave our homes more comfortable and will lower peoples' energy bills, alleviating the stress coming from highly volatile fossil fuels prices."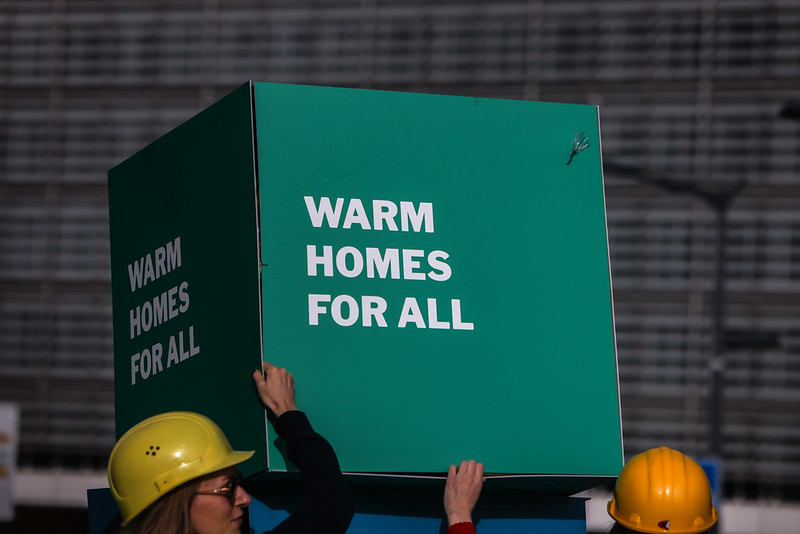 Buildings are responsible for up to 40% of the EU's total energy consumption and 75% of buildings in Europe are deemed inefficient, which means that most people in the EU live in unfit housing.
The new Build Better Lives campaign unites social, housing, climate and youth movements in the call for more energy efficient buildings that can benefit millions of people's lives throughout Europe.
***
Press contacts:
Matilda Flemming, Friends of the Earth Europe: media@foeeurope.org
James O'Connor, Climate Action Network Europe (CAN Europe): james.oconnor@caneurope.org